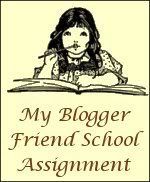 Assignment:
Share some of your favorite homeschooling sites. The only "rule" for this assignment is that you have to list at least one "free" site. Many homeschooling families have made the choice to live on very little income to do what they believe is best for their children and I want everyone to be able to benefit from this assignment. If you have other sites that are "paid" sites, feel free to include these also as it might be something someone would really appreciate. If you feel led, share your curriculum choices with us. I always love to learn what is out there that I don't already know about. Please make sure to include links to the sites you share.
Although we live on a limited income, I don't stress much about finding free stuff on the internet. I think that any money we invest in curriculum is well worth it, especially great living books we'll read again and again. But I do love finding helpful resources on the internet for things like art, music, books, etc.
I have spent way too much time finding great sites on the internet - it always seems like one site leads to five more! Sometimes I've felt almost manic as my excitement over finding new resources builds to a boiling point - look at all these possibilities!!! And knowing that other people are posting about sites I might not know yet makes me giddy (but not in the Singaporean way, which means "dizzy").
So here are some of the sites I love:
Vegsource
This is actually a vegan website. I am not vegan, but it has a great used curriculum page where I have found many things I need.
The Homeschool Mom
This website has lots of fun free things, including a newsletter.
Art Projects for Kids
I have had so much fun using this website - she regularly posts art activities for kids that are easy and creative.
Children's Books: What, When and How to Read Them
This woman does not appear to be a believer, but I LOVE books, and she has given me a lot of leads on good books for our kids.
Squidoo
This is a place where people can upload information about anything, so if you go to the main site and search on homeschool, you'll find over 750 pages! I found it while looking for information on how to lapbook.
Homeschool Share
If you're into lapbooks and unit studies, this has a ton of free resources! I am just getting into them, so it's been a good introduction for me.
And one more thing - if you aren't familiar with the Usborne Internet Linked series, you should check it out! We have the history and science books (We use Story of the World for history, which references pages from Usborne History in each chapter). Granted Usborne is NOT written from a Christian perspective, but the kids have loved looking up the links to pages they've learned about. Recently we found several sites from it about the human body that had fun games and interesting videos. Plus, for my very visual learner, it gives great pictures to put with our stories.