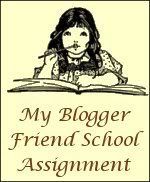 Assignment:
We only have today. Should God take you today, have you accomplished everything that you wanted to, needed to. Have you said all the things that needed to be said? Let's have no regrets, let's make sure we get to those things, so that when we're standing before the Lord, the only thing we need to do is to worship him.. and not regret not getting to that thing on our to do list. Stop - go take care of that thing…. then, come tell us what you choose to share. Don't embarrass yourself or any of your loved ones
I'll be honest - when I think about standing in heaven, I have a hard time imagining that I will have any thoughts of this life at all. But if I do, I imagine it will only be not spending more of my energy on knowing Him and making Him known to others.
It's funny that this topic came up, because one night earlier this week, after I'd shut off the light, I scribbled this thought in the dark, "What will I regret doing or not doing in my life?" But the things I wrote down aren't things to be done in a day. They are habits of heart and mind, like, "Making the most of my relationships, especially with Erik and the kids" and, "Spending more time with God than I do on the internet."
This is a good reminder to me today as I am weary from another week of Erik being away, and I'm tempted to find a media babysitter for my kids and curl up in a ball til he gets back. But I know in the long run the time I spend with my kids is something I won't regret. That's why I took this picture of my daughter wearing my shoes - this is my "tomorrow" shot. Someday she'll fill these shoes and the things I do today will impact the woman who fills them.