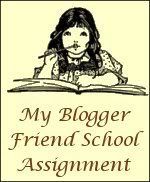 Intro: America's Favorite Dessert J-E-L-L-O - What we read affects what we believe. When we feed the Scriptures in our spirit, faith comes alive and becomes a living force within you.
Assignment:
Write about your favorite 'faith food'. Tell about the books of the Bible that you read that help to build your faith. Nurture the seeds of faith inside you. ex: Acorns become Oak trees.
Funny that you ask that this week, because I just made the decision to lead a study on Ephesians next semester at our church. Why Ephesians? Because one of the most significant and life changing aspects of my relationship with God is understanding my identity in Christ - who I am as His child, my authority as a believer, my value and uniqueness in Him. And all of that is wrapped up in Ephesians. Chapter 1 is alone says we've been "chosen, blessed, predestined, adopted, redeemed, forgiven, sealed." I also go to Ephesians when I'm feeling spiritual battle, to remind myself that because of what God has done for me, I can stand firm.
Another favorite book of mine is 2 Corinthians. I know, it seems a little random, but it tells us about how God has made us competent in Christ, how He uses our trials to strengthen us and show His glory through us, how God multiplies our giving. Probably my favorite verse is 1:20, "For all the promises of God find their Yes in him (Jesus). That is why it is through him that we utter our Amen to God for his glory." Whatever God promises us, He will fulfill.
I also really enjoy Deuteronomy. I suppose it isn't usually on peoples' favorites list, but a few years ago I spent a semester studying it, and the theme that I walked away from it with was, "Do not forget the Lord." For someone like me, who tends toward self-sufficiency, it's always a good reminder that I desperately need God, and if I feel like I don't, either I'm not stepping out in faith, or I have just lost my focus.
But when I'm discouraged and need some instant juice, I'm most likely to go to the Psalms of David. I love his honesty. His psalms often begin with a lament of, "God where are you? What are you doing?" but they end with, "You're God, and you're good." I want to model the same transparency with Him - not hiding my emotions, not pretending everything is fine, not trying to wriggle out of my difficulties until I'm honest with God in how I feel. I know he can take it. But once I've poured out my heart, I want to honor Him by bringing myself back to the truth of who He is in my life.
Thanks for the reminder of the power of scripture!